HelpFreely is a safe and easy way to turn a small portion of your online purchases into a donation to our wildlife rescue centre – at no extra cost for you!
By purchasing online from shops affiliated with HelpFreely (there are many affiliated shops, including Booking.com, Swarovski or MyProtein), a small percentage of what you have spent will automatically be sent from the shop to us as a donation.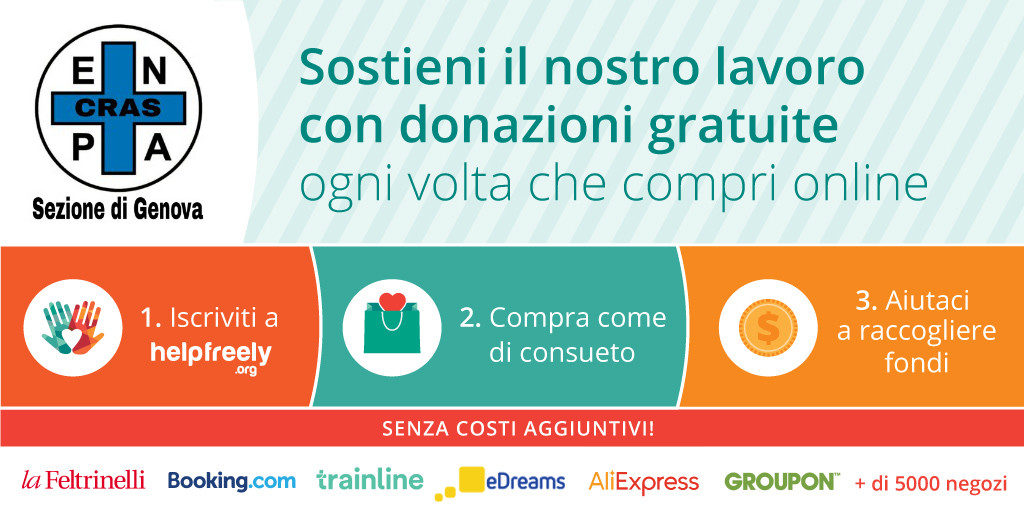 What is HelpFreely
It is a PC app (not for smartphones!) that works when you use Chrome or Firefox. You can download it at this link. By switching it on while you shop online, a small part of your expenditure will be donated from the shop to our centre. Even just by visiting the online stores with the app switched on, you can send us some extra donations – without having to spend anything!
Affiliated shops
They are really a lot! You can find them by clicking here.
Do you need help registering or using HelpFreely?
We are available for explanations, write us at crasgenovaenpa@gmail.com
So, do you want to help us by donating without spending?